When myself and my carping partner arrived at the complex having never seen the lake before and found very little information on the place we had wondered what we had let our selves in for.
As soon as the gates opened around 7am we went straight to the lake for a good look round and straight away i saw a few fish spread out around the lake, on the second lap Tim had a few pegs in mind that he fancied and so did i so we had one last lap and went for the peg draw and believe it or not we came out first and Tim looked at me with too may options and knowing what peg he had in mind which was peg 7, he then looked at me and said its my choice and i chose peg 5 in the middle of the lake where i had seen a-lot of fish and then what we were the told was peg 5 has never qualified let alone won a competition.
We began the set up and stuck to our game plan  thinking we had blown it with the peg choice and after the horn the match was on the way with peg 9 getting off to a flying start but soon our approach of starting with PVA bags and singles to showing fish payed off with my solid bag melting off and we were on the score sheet, then it all went quiet for a few hours so i decided to put 5 spods of bait out to a shallow area near the showing fish, the mix was maggots corn and the trusty DNA baits spod syrups which ever fail.
Soon the bites started to come and we were holding second place which we managed to hold most of the match, with peg 7 chasing us from the start.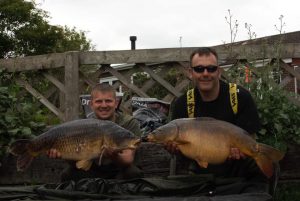 The majority of the match went on with peg 9 running away with it going into the last night 296lbs with us battling peg 7 for 2nd or 3rd place so waking upon the final morning and managing to get 2quick bits which gave us 2nd place we opted to pile the bait in not knowing what the outcome would be but what happened next was unbelievable with us landing over 100lbs in the last 4 hours taking first place and setting a new lake match record for biggest weight and were still playing fish when the horn went for the end of the match.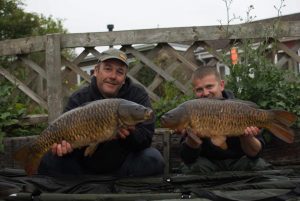 Our total weight was 344lbs 7oz with 21fish with a brace of 20s and the fish were stunners as well, we did also manage 15 bream  between 7lbs and 14lbs and 2 tench about 7lbs.
The rigs i used was a QC rig with a size 6 PB Products bridge beater wide gape hook with a ghost butterfly boom section fished heli style on both rods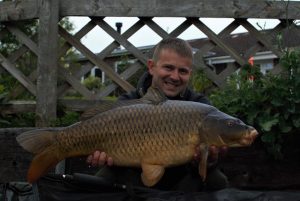 The rigs Tim was using was a lead clip set up fished naked on PB products 24lbs control main line with a KD rig using chameleon braided hook link with a size 6 KD curve hook using the same hook baits as rich.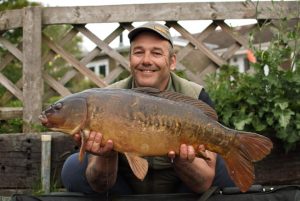 We would like to thank PB Products UK for quality tackle they supplied us with and the sticks sharp hooks that allowed us to land all the fish we catch.