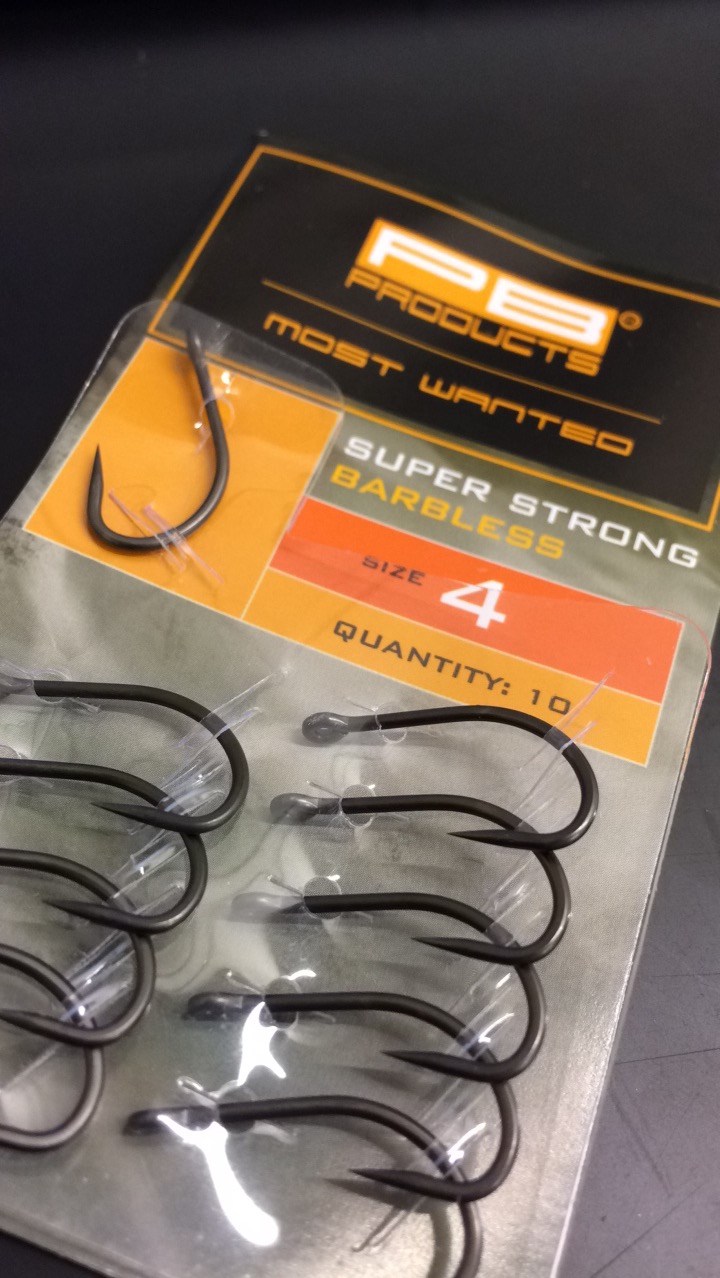 Pb products Super Strong Hook BARBLESS
Due to a high demand from customers we was asked to release a barbless range to compliment our already outstanding hook range.
With that in mind we at PB Products listened, and the first in the Barbless Range is the Super Strong.
A hook that needs no introductions, SHARP and as the names says SUPER STRONG.
available in sizes 4 & 6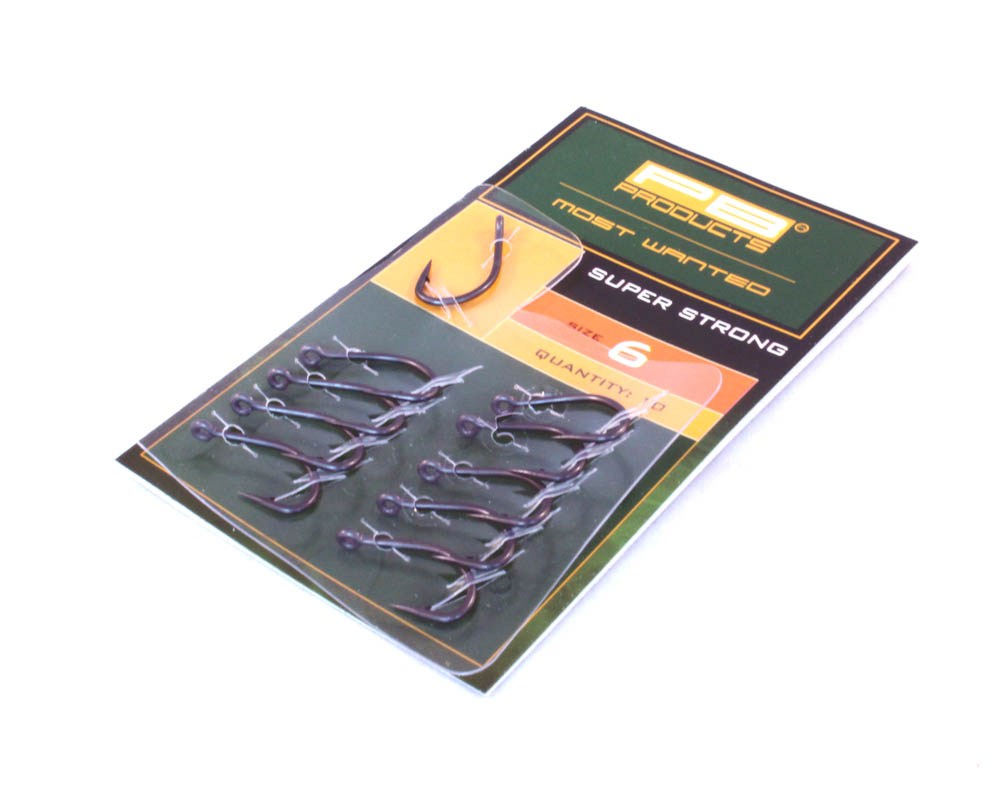 PB Products Super Strong Hook
A straight pointed, and extremly strong, hook that is perfect for all your heavy duty angling situations.This is a hook that is guaranteed never to fail you, no matter the circumstance. Adding shrink tubing or one of our many hook aligners creates a highly effective hooking arrangement which will not let you down.This hook comes with a matt grey finish. Available in size 6 and 8
10 hooks per pack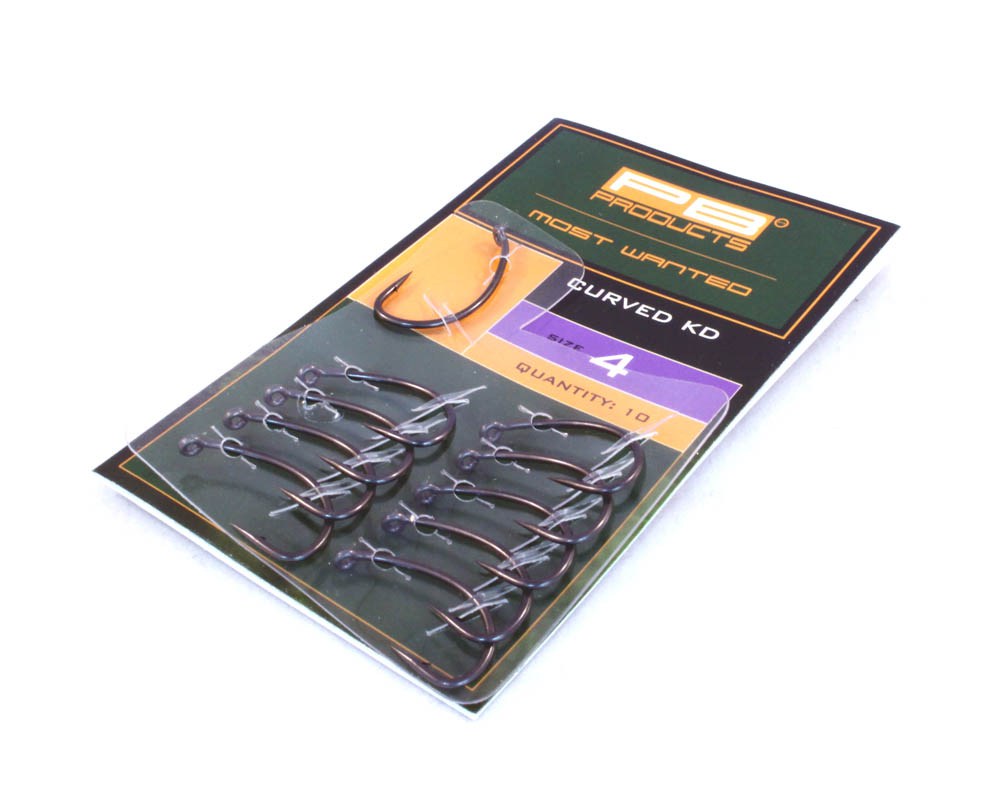 PB Products Curved KD hook
Our fantastic Curved KD hook, is quickly becoming our most popular pattern. This curve shank hook was originally designed with the super effective 'KD rig' in mind, but with its smooth curve, and cleverly angled eye, it has become great for many other rigs and presentations. Incorporate this hook in to your collection and we're sure it will remain a favourite as it has quickly become for many anglers!
As with all our hooks we pride ourselves on the razor sharp point straight from the packet.
Avaialble in sizes: 4, 6, 8
10 per pack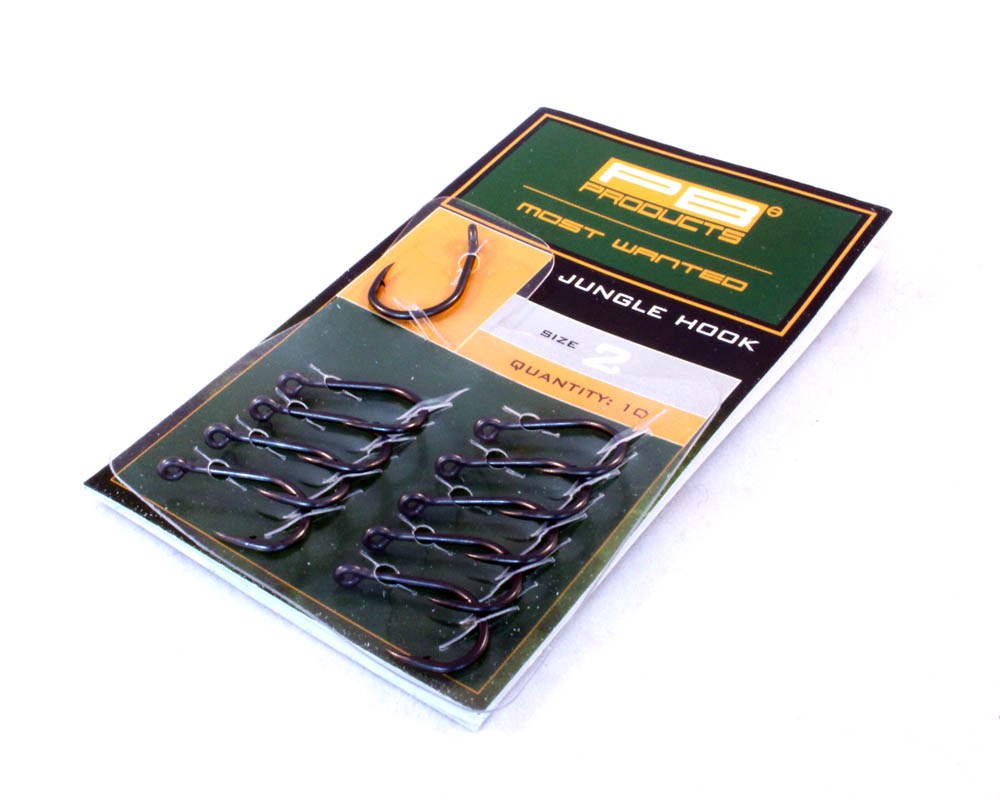 PB Products 'Jungle Hook'
The Jungle Hook, one of the most popular patterns in our hook range
A wide gape, super sharp, and strength you can rely on in the most demanding of situation, some say this is the ultimate all round hook…
Available in size's:  1, 2 , 4 , 6 , 10
10 per packet
****** BRAND NEW SIZE 10 JUNGLE ZIG/FLOATER ********
AVAILABLE NOW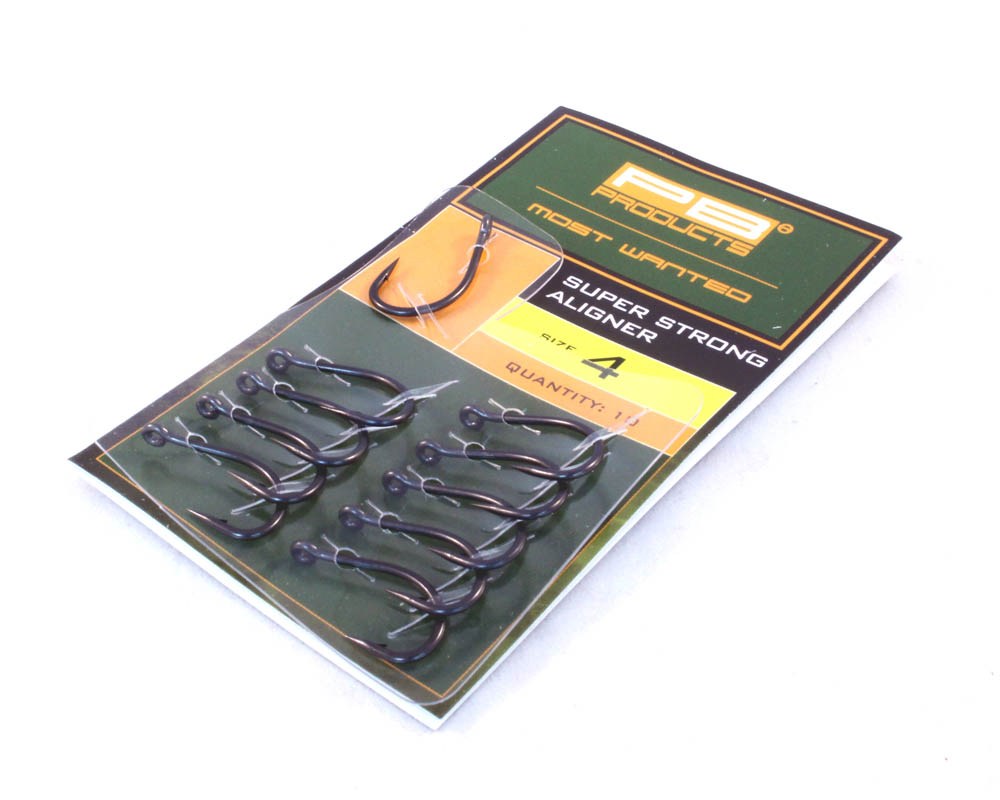 Pb products Super Strong Aligner Hook
The famous Super Strong hook but adapted to two points. The stem is slightly shorter than the original Super Strong hook. This allows the hook is stronger and ……. the combination with PB Products Aligner perfect. The point of the hook and the aligner the "output" now walk in a straight line.The perfect jab combo. For this reason, the bend of the hook and the hook point also minimal adjusted every detail right now if you are fishing aligners with PB Products in conjunction with the Super Strong Aligner hook.size 4, 6 ,8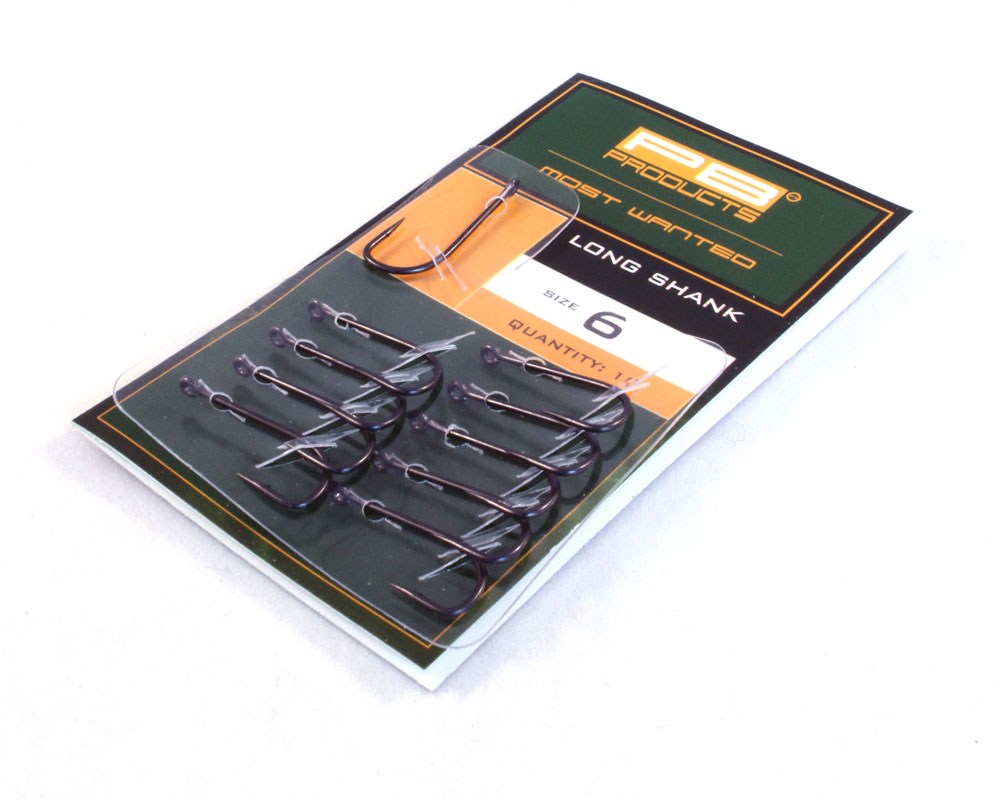 PB Products Longshank Hook
A classic 'Long Shanked ' hook pattern that has withstood the tests of time.The perfectly formed eye angle and shank length ensure an incredible hook-hold every single time. There are anglers out there who have been using this design for years and we have brought out this hook to both compliment and improve a truly classic pattern.Our smooth matt grey coating and ultra sharp point will ensure that this hook is a favourite with many anglers. Available in sizes 4, 6, 8, and 10.10 per pack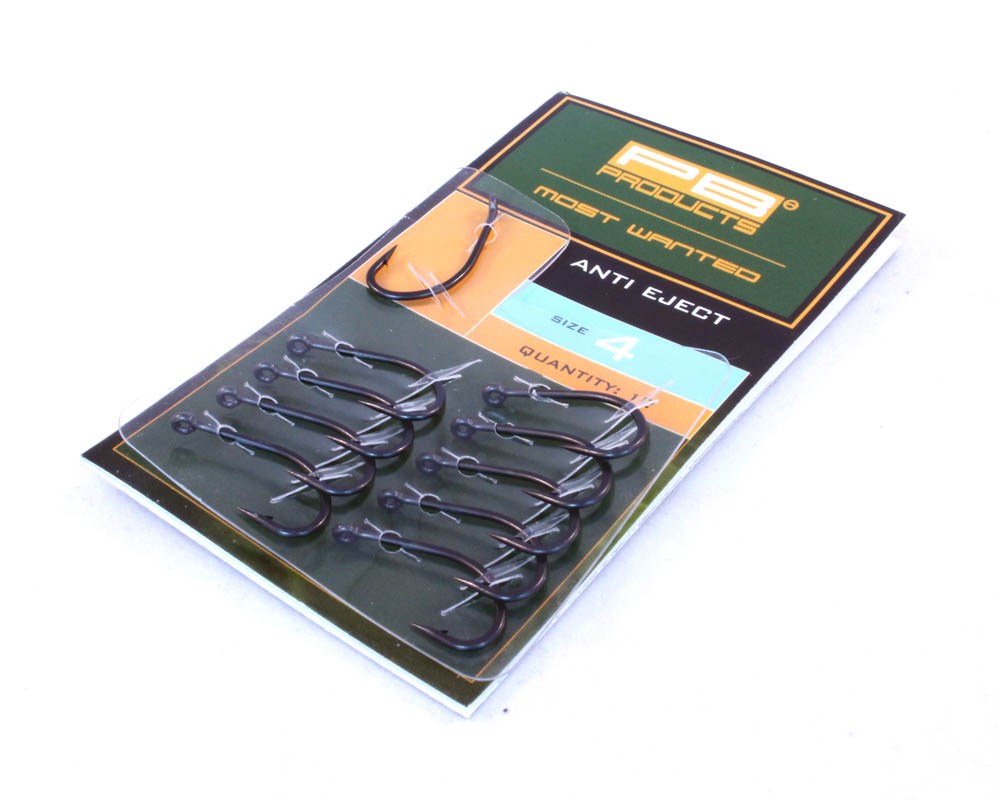 PB Products Anti-Eject Hook
This all-round hook, finished in a matt, dark grey coating, has been designed with a claw-like bend and short shank, which ensures a totally reliable hook-hold and remains in place throughout the fight.
It has an incredibly sharp, straight point, that provides an instant hook hold as it comes into contact with the fish.
This is a hook that can be used in different situations and which comes into its own as part of a flexible rig or combi-rig.
Available in sizes 4 , 6,  8
10 per pack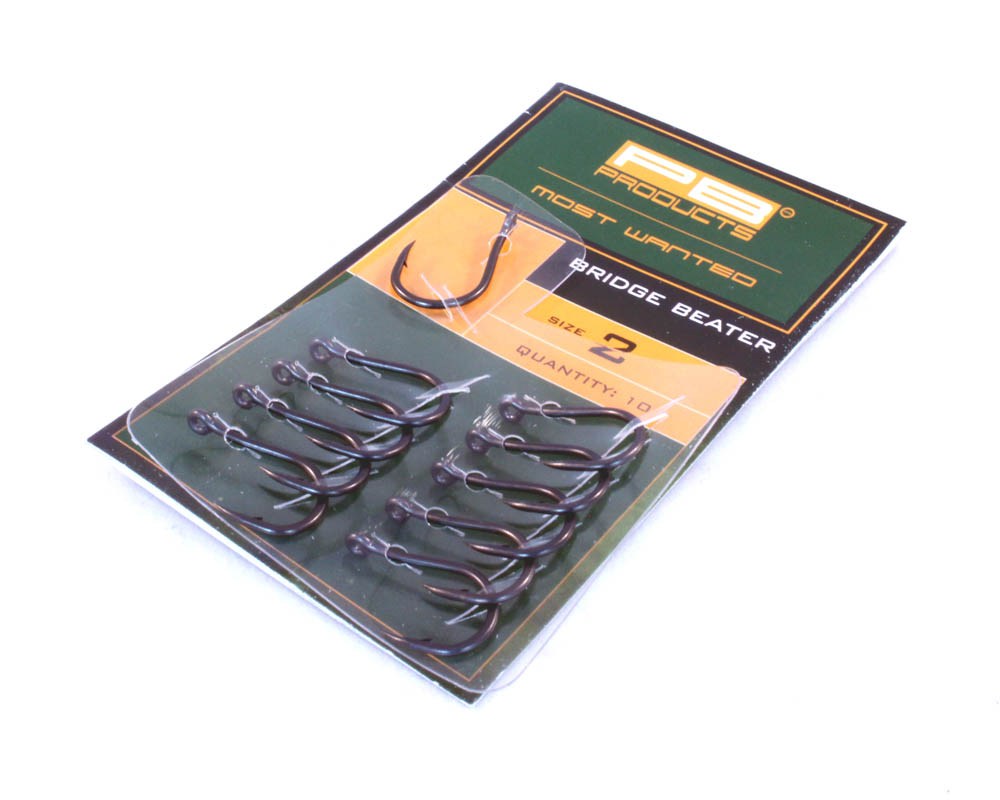 PB Products 'Bridge Beater' Hooks
The PB Products Bridge Beater, a strong, sharp and reliable wide gape hook.
A great all round hook suitable for many rigs, from bottom bait to pop up rigs, and with its slight bend in the shank its proved effective for many of our team members when used for Chod rigs, and more recently the Ronnie/ Spinner rig.
Available in sizes:
2, 4, 6
10 hooks per pack
Separately packaged to keep sharp.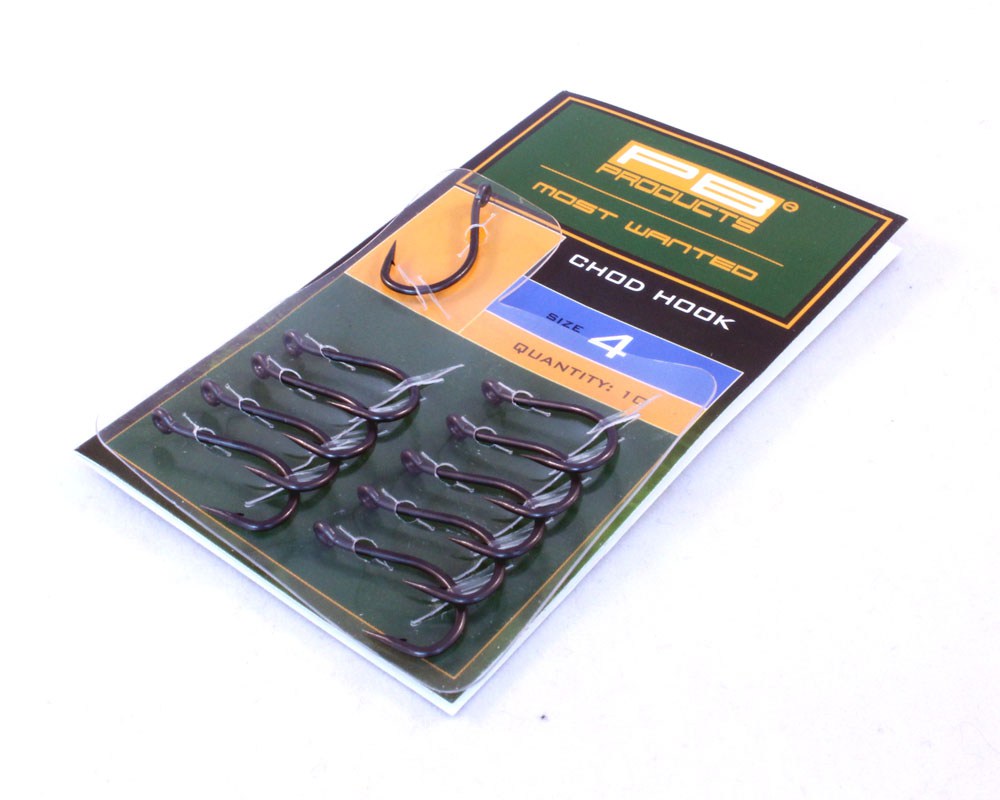 PB Products 'Chod' hook
Our specially developed Chod hook, strong and super sharp.
The eye of this hook has been formed at the optimum angle for this rig and is large enough pass stiff rig material through enough times to create the perfect 'D'.
If your an avid user of Chod hooks in your fishing, these are a must for the tackle box.
Sizes available: 4, 6, 8,
10 per pack

CARP FISHING IS NOT WHAT WE DO,
IT'S WHO WE ARE!