Spring and summer campaign on RK Leisures Kingsmead 1.
During the two weeks leading up to the new season, I had time to think about my approach for the coming spring. I decided I would start by not chasing the fish around as much as the previous season and concentrate on the more weedy areas of the lake, trying to build swims by spending a few nights at a time in my chosen swims. My first session was spent in a little "corner" of the lake with nothing doing until the next morning when the alarm sounded. The result was a low 30 mirror. Then around midday the second rod produced a lovely old common just shy of the 30lb mark. These were to be the only two fish of the session, but I was more than happy to be off the mark.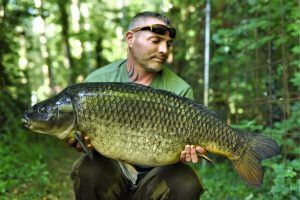 .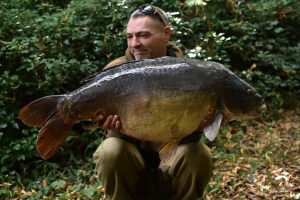 I spent the start of my next session having a good walk round the lake trying to find a few fish stopping at various swims, sitting on the Barrow watching the water. While sitting in one of these swims I noticed a few fish and after watching their behaviour for a while it was obvious to me they were feeding on a hatch, so I decided to cast two single hook baits at them. Within an hour I had upper 20 from the left rod. Shortly after this the right rod produced a lovely mid 30 Sutton, I decided I would set up there, but sadly these were to be the only two fish of the session. The next couple of sessions turned out to be blanks. As it turned out the lake was fishing hard for the first part of the season, partly due to a lack behind k1 being drained and having a dramatic affect on the water levels. Combined with the unusually hot weather for the time of year and the water being a horrible chocolate brown in colour (compared with the gin clear water of last season) made it far from ideal conditions. My next session resulted in a small common and time to rethink my approach. On arrival of next visit to the lake I settled into a swim known as Dog1 but not feeling to confident as the fish were chasing each other about and churning up weed. The following morning my suspicions were confirmed and it was time to bring the rod's in and let the fish go about their business of spawning.
once they'd finished and the green light was given it was back to business and on turning up to the lake armed with a fair amount of hemp I settled Into a very weedy swim called The Bream. Once set up I set about raking a spot at about 40 yards and after a couple of hour's raking repeated the process for the right hand rod also at about 40 yards. My next step was to spomb about 2 and a half kg of hemp over each rod deliberately enticing the bream to polish my spot's. That night was spent catching bream on the hour every hour. The following day I spombed out more hemp and started to introduce RG Baits Vita-lac boilies in various sizes. As day turned to night the bream returned, but this time there were a few small stockies amongst them. The following day I topped up the swim with boilie and over the next 24 hours I managed to net 3 mid 30 mirror's(one of these being a Sutton) and a nice old low 30 common.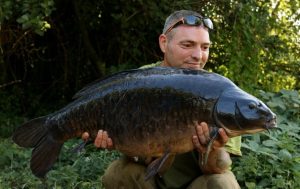 I had one more night left, but the fish had other idea's and decided they were going to have another go at spawning, so it was home-time for me. After another 10 days of spawning the green light was given again, I was fortunate enough to get back into the same swim I had vacated on my last trip and after a light raking and baiting my spot's with hemp and boilie I settled down, and over the next few days I managed another 9 fish up to 33.10lb.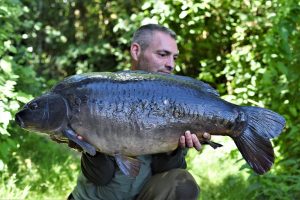 Over the next couple of months I carried on with my approach of targeting the more weedy parts of the lake, creating spot's by raking and then spombing hemp and boilie of various sizes over the top. The results were some fantastic fish, including 13 over the 30lb mark. All were caught on either a stiff hinge rig made up of PB Products size 4 Chod hooks, Chod mono hook link and a 25lb jelly wire boom or a combi-rig made up of PB Products Chameleon supple hook link braid, Ghost Butterfly Fluorocarbon hook link and size 6 Anti-Eject Hooks. Not bad considering the fish had spawned hard twice. For the last several weeks of summer I took a more mobile approach to my fishing dropping the hemp and using a boilie only approach, made up of a mixture of RG Baits Vita-lac in 12mm, 15mm and barrels all soaked in matching liquid food. My rigs also changed opting for 360's made up of PB Products end tackle and a 12mm vita-lac popup. Fishing for a bite at a time this more mobile approach paid off. All in all I'm more than happy with my spring/summer campaign having caught almost 50 fish weighing up to the mid 40 bracket, including some very special ones. Now let's see what winter has to offer!!!!